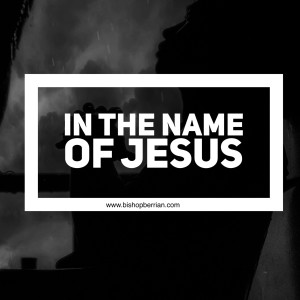 When we Call on the Name of Jesus and say "In the Name of Jesus" everything that is not God must Flee
Genesis 50:20-21"But as for you, ye thought evil against me; but God meant it unto good, to bring to pass, as it is this day, to save much people alive Now therefore fear ye not: I will nourish you, and your little ones. And he comforted them, and spake kindly unto them.
The Lord begin to speak and say, whatever the enemy has tried to harm you with He is turning it around. YES it may seem like you're in a financial jam or your life is in a pit, but God is turning that around. I want to tell you that whatever God has blessed no man can curse! So what do I mean? YOU as a child of God cannot be cursed, but the enemy can try to cause delays in your life, bring disobedience, and even try to turn you from God. But you must call on the name of JESUS! I want you NOW to shout in the name of JESUS seven times!
In the name of JESUS 
In the name of JESUS  
In the name of JESUS  
In the name of JESUS  
In the name of JESUS  
In the name of JESUS  
In the name of JESUS 
It's easy to give up when all seems wrong, isn't it? To give up means that you have lost FAITH, and I want to stand with YOU, because the devil shall not win! Have you ever thought, what if Moses mother did not hide him for three months? Not only did the king command all the young boys to be thrown into the Nile River, but she would have also been killed for hiding Moses.
Don't lose your FAITH it is your weapon against the enemy! Did you notice in exodus God used the same thing the king was using to kill the boys as a way to free Moses? It was the Nile River the king commanded all young boys to be thrown in, but it was also the river that Moses was placed in! What the devil meant for evil, God shall turn it around and use it for your good! People who have already decided to not give up, and arm themselves with FAITH has seen their miracle!
The lord begin, to show me the enemy trying to set an attack on YOUR life. As I saw this vision I went into prayer right away, and asked God what must I do for YOU! As I sat there in prayer the Lord said you must establish a personal relationship with Him through PRAYER. Why you might ask? When the Prophet Isaiah gave King Hezekiah the word that he was going to die, he fell to his face and prayed, causing his life NOW to be extended. God said whatever attack is on your life YOU must pray! It may seem as though the enemy has attacked your household, but through OUR prayers God will rectify YOUR name! Whatever you may have lost I want you now to leave that in the past, and move on. STOP living for where you've been and start living for where YOU are going. I was once in a situation where I had nowhere to turn, maybe just like you, but I said to myself I must have faith and all will fall into place.
God Bless you, keep ME in prayer as I keep YOU in prayer.
Request your HOLY BLESSED ANOINTED OIL for a LOVE GIFT DONATION $22.00  that I took with me to the mountains. Miracle testimonies are already flooding in. Click Here with a love gift donation for $22.00
Save
Save